Imports of apples from the EU have reached their 5-year low in Egypt in the MY 2022/23 (July-June), reports EastFruit. The devaluation of the Egyptian pound in 2022 has backed local exporters in the foreign marketsbut had simultaneously affected imports drastically. In addition, food inflation in Egypt has further negatively impacted the demand for imported fruits, as local consumers have switched to less expensive products.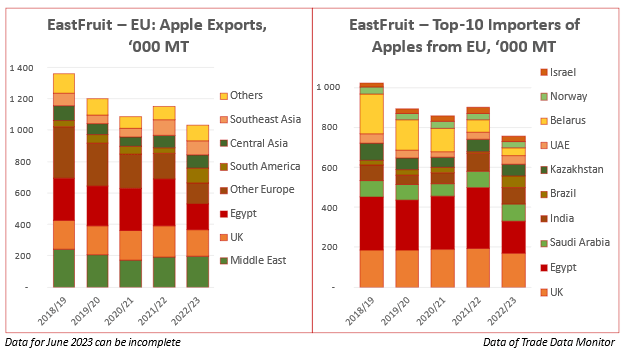 Thus, Egypt has lost its status of the leading importer of apples from the EU in the MY 2022/23, with imports standing at just 163,000 tonnes. For comparison, in the previous MY they amounted to 302,000 tonnes and had never been lower than 251,000 tonnes in the past four seasons!
In other words, exports of apples from the EU to the Egyptian markets took just a half of the volumes in the previous marketing year and were averagely 40% lower than average over three seasons in a row since the MY 2018/19.
In the MY 2022/23, it was the UK that had headed the list of the largest importers of apples from the EU, with imports reaching 170,000 tonnes. Among the regions, the UK was inferior just to the Middle East, which cumulative imports stood at 197,000 tonnes.
Apple suppliers from Poland and Italy were hit especially hard by the loss of the Egyptian market, as their exports fell by 50% averagely compared with the MY 2021/22. Italy exported just 78,000 tonnes of apples to Egypt (154,000 tonnes a year before), and imports from Poland fell from 91,000 tonnes to 41,000 tonnes. Meanwhile, Greece, the third largest exporter of apples to Egypt, reduced its shipments by a quarter to 40,000 tonnes.
Despite a decline in total exports of apples from the EU in the MY 2022/23, their decrease rate could in no way compare to a fall in the demand for apples in Egypt. As a result, the suppliers had to switch to new markets, increasing competition there.
In addition to more traditional Middle East, the EU has considerably increased its presence in relatively new countries and regions. Apple exports from the EU to South America (Brazil, Colombia, Ecuador, etc.) have tripled in the MY 2022/23 and reached 94,000 tonnes. Meanwhile, Poland became the leading apple exporter to Mongolia, ousting China from the Mongolian market.
Source: East Fruit