The US hit an Egyptian state-owned company with sanctions over support for North Korea's weapons program on Thursday, likely over an episode in which Egypt was suspected to have made a clandestine purchase of thousands of rocket propelled grenades from the hermit kingdom.
In a regulatory filing, the State Department added Egypt's Sakr Factory for Developmental Industries to a blacklist of entities that have contravened US law by providing support to the weapons programs of North Korea, Iran or Syria. In August 2016, Egyptian customs officers acting on a tip off from US intelligence discovered some 30,000 rocket-propelled grenades on board a ship that had sailed from North Korea.
A UN panel of experts called the discovery of arms of the ship, the Jie Shun, the "largest interdicted ammunition consignment in the history of sanctions against the Democratic People's Republic of Korea." Despite going into minute detail about most aspects of the discovery, the UN investigation into the episode does not identify the buyers of the consignment. However the New York Times reported last year that the crates on the ship were stamped with the name "Al Sakr Factory for Developed Industries (AOI)."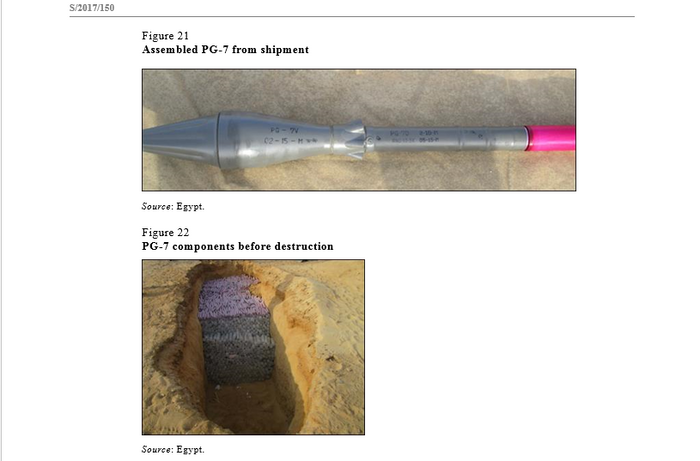 Pictures of PRG components found in Egypt contained in a United Nations report from February 2017.
Screenshot from the report
The firm is a part of a state owned industrial network called the Arab Organization for Industrialization, whose head is none other than Egyptian President Abdel Fatah Al-Sisi, according to its website. A State Department official confirmed that Sakr was listed for support of North Korea's weapons program, but was unable to provide any details.
The shipment is reportedly one of many such deals with North Korea that prompted Washington to withhold military aid to Egypt. The Washington Post reported in October, citing diplomats and UN officials, that Egyptian "business executives" had ordered "millions" worth of arms from North Korea and attempted to keep the deals secret. Last year, Cairo publicly said it had severed all military ties with Pyongyang, which is currently withering under a blistering US sanctions regime.
According to the UN report, published in February last year, Egyptian prosecutors opened a case against the unnamed company that was purchasing the goods. A footnote said national authorities "closed the private company and revoked its licence." The State Department's filing lists several entities, including many in China and Russia and most of whom who have been previously sanctioned under the same measures.
The State Department press office did not respond to two emails requesting information about the filing and declined to provide details by phone. North Korea and Egypt's public split came after years of bouyant trade ties. Suspicions that Cairo will continue to help Pyongyang evade sanctions, however, still linger in Washington.
In March the White House conditioned its billions in military aid to its Middle Eastern ally on several conditions, one of which that the State Department keep tabs on any efforts to aid North Korea, according to a report in Al Monitor.