If all President Abdel Fatah al-Sisi had done was announce his campaign for what would be an unconstitutional third term, he would have attracted far less attention. There was never any doubt that Sisi would seek to extend his nine years in office and there is almost no chance he will lose. But his announcement was preceded by Story of the Homeland, a three-day conference to showcase his presidential achievements, at which Sisi made some bizarre comments.
"If progress, prosperity, and development come at the price of hunger and deprivation," he told attenders on Sunday, "Egyptians, do not shy away from progress! Don't dare say: 'It is better to eat.'"
It was a reference to two keystones of his administration: a penchant for multibillion-dollar megaprojects and the worst economic crisis in living memory. Since coming to power in 2014, Sisi has embarked on a construction spree. The weekend's conference was held in the $58bn (£47bn) New Administrative Capital, commissioned in 2015 but remaining essentially empty. Over the same period, inflation – which hit a record 37.9% in August – has pushed about one-third of Egyptians into poverty.
"By God", Sisi continued, "if the price of progress and prosperity is that we don't eat or drink as others do, then we will not eat or drink."
Within hours, videos of his speech were trending on X, Elon Musk's social media platform (formerly known as Twitter). By Sunday, they had been removed "in response to a report by the copyright owner". Egyptian TV channels appeared to re-upload footage of the conference with the offending remarks edited out.
Sisi's comments were not some campaign gaffe. He was reciting the same message he always has, it just no longer inspires the support it used to. It is not Sisi who has changed, but Egypt.
Since taking power after a military coup in 2013, Sisi has strived to present himself as the magnanimous general, reluctantly picking up the mantle of power to serve his country. He is the president prepared to be unpopular, willing to make difficult decisions and deliver hard truths. In his speeches, he speaks slowly and calmly in colloquial Egyptian Arabic. He is given to pausing mid-speech to smile knowingly into the middle distance. Invariably, his message is for people to tighten their belts and trust their government. One speech from 2017 became a popular meme when he asked Egyptians: "Did nobody ever tell you how poor you are? Then let me tell you: We are very poor. Very poor, indeed."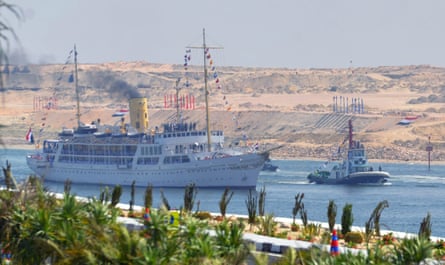 The promise Sisi made when he took office was this: short-term sacrifices for long-term stability. It was a deal that many accepted. The Suez Canal expansion, completed in 2015 at a cost of $8bn, was the first of his new initiatives, and one that fired people's imaginations for what was possible – although analysts think its actual economic impact has been minimal. In the early days of his presidency, Sisi announced he would oversee 4m acres of new farmland in the desert. He would build 40 cities. The New Administrative Capital alone would feature the tallest building in Africa, an airport bigger than Heathrow, and the biggest church in the Middle East.
To build this "new republic", the government would cut subsidies and life would temporarily become more expensive. But in the long run Egypt would prosper.
Instead, Egyptians have grown ever poorer. The dollar increased in value from 6.95 Egyptian pounds to 30.9. Food inflation rose to 60%. Foreign debt jumped from $40bn to more than $165bn. Another devaluation is expected after the elections, which is likely to reduce living standards yet further.
As prices have gone up, Sisi's popularity has plummeted. As political analyst Steven A Cook argues, Sisi, having plastered his name across the country for nine years, is now unable to dissociate himself from the ongoing economic crisis. Where he once attributed all Egypt's problems to the deposed Muslim Brotherhood, its members have now all gone – exiled, imprisoned or killed. With nobody left to shoulder the blame, Cook says, Sisi has become "manifestly unpopular". The speed with which Sunday's remarks disappeared from the internet shows just how Sisi knows it.
His re-election announcement was still preceded by the traditional rallies, ostensibly grassroots affairs to lobby the president. Regardless of who organised them, in 2014, there was an energy to these events. But with each election cycle, they have become ever more perfunctory, attended by government officials, schoolchildren and scout troops ferried in on minibuses, or just passersby.
By Monday evening, at least one of them turned into a protest. Following Sisi's announcement that he would "answer the call" to run for re-election, groups of men in the port city of Marsa Matruh pulled down the president's banners, to cheers from the crowd, and burned them in the street. A video on social media shows rally attenders reprising a popular chant from the 2011 protests: "The people demand the fall of the regime."
Source: The Guardian