A doctor from Swansea has been forced back into Gaza after being refused permission to escape to Egypt. 
Ahmed Sabra's name was not on an approved list of foreign nationals allowed to leave the Gaza strip, forcing him to be separated from his wife and three children who did escape.
Dr Sabra told the BBC he has been sent to a "death sentence" and accused the UK government of failing to help.
The Foreign Office said it was in regular contact with British nationals.
Dr Sabra and his family were visiting relatives when the war with Israel began, and had been waiting to leave Gaza for a month.
He said staff on the Palestinian side of the border had allowed him to remain with his family while they made their journey towards Egypt.
He and his family spent two days at the Rafah border waiting for his name to be processed, only to be told he did not have permission to enter Egypt.
Dr Sabra is currently on the Palestinian side of the Rafah border while his family are in Cairo.
He told the BBC he is happy that his family are safe, he has claimed the UK government has "not done enough" to help him and is pleading with them to help him escape.
"I'm calling on the Foreign Office to do their duty for a British national. To evacuate me and get me out of Gaza," he said.
"We are now being sent to a death sentence.
"We've been sent to the most dangerous place in world and I don't think the UK government did anything to help us.
"We've been told that there is a clear process to follow and the British Embassy did not follow the process."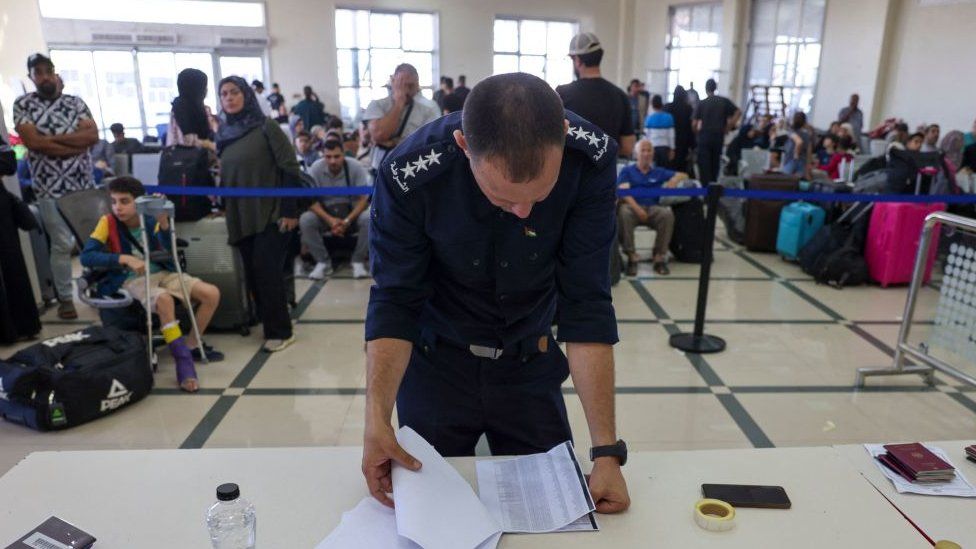 Dr Sabra described the last four weeks of the war as a "very distressing experience".
"We're seeing death every day, we smell death, the sound of death and we felt like we died one hundred times," he said.
Geraint Davies, independent MP for Swansea West, said Dr Sabra's failure to be allowed to leave Gaza was a "grotesque failure" by the Foreign, Commonwealth and Development Office [FCDO] which had put him in "mortal danger".
"Dr Sabra is my constituent, and a Swansea NHS consultant has been allowed by the UK government to be removed from Egyptian soil and returned to Gaza after getting across the Rafah border whilst his wife and three children have been sent without him to Cairo.
"This is more than a grotesque failure by the FCDO who are directly complicit according to the Egyptians in him being sent back to mortal danger.
"I have been in touch with No 10 which, alongside James Cleverly and Lord Ahmad who I am in touch with directly, must be held responsible for allowing this to happen.
"Much more was done for non UK nationals escaping from enemies in Kabul than for Dr Sabra who was already in the British Embassy's care and has now been returned to face the risk of sudden death in Gaza."
A Foreign Office spokesman said: "We're working round the clock to ensure all British nationals in Gaza who want to leave are able to. This involves submitting all details of British nationals and eligible dependants to the Israeli and Egyptian authorities. The authorities then review all cases and give permissions to cross.
"We remain in regular contact with British nationals in Gaza to provide them with the latest information, and UK teams are forward deployed to the border to receive anyone leaving".
Israel has been bombing Gaza since the 7 October when Hamas attacks saw 1,400 people killed and more than 200 taken hostage.
More than 10,500 people have been killed since Israel's retaliatory bombing began, according to the Hamas-run health ministry in Gaza.
Source: BBC