Across Ukraine's vast expanse, there are thought to be 174,000 square kilometres which are contaminated by landmines.
It is an area of land larger than England, Wales and Northern Ireland combined.
In the war-scarred Kharkiv region, warning signs occasionally appear next to brown, barren fields which were once front lines.
Even more infrequent is the sight of demining teams sweeping their metal detectors across small, taped-off areas. A literal scratching of the surface.
More landmines have been found in the Kharkiv region than anywhere else in Ukraine.
This part of north-eastern Ukraine close to the Russian border has been both occupied and liberated over the past year.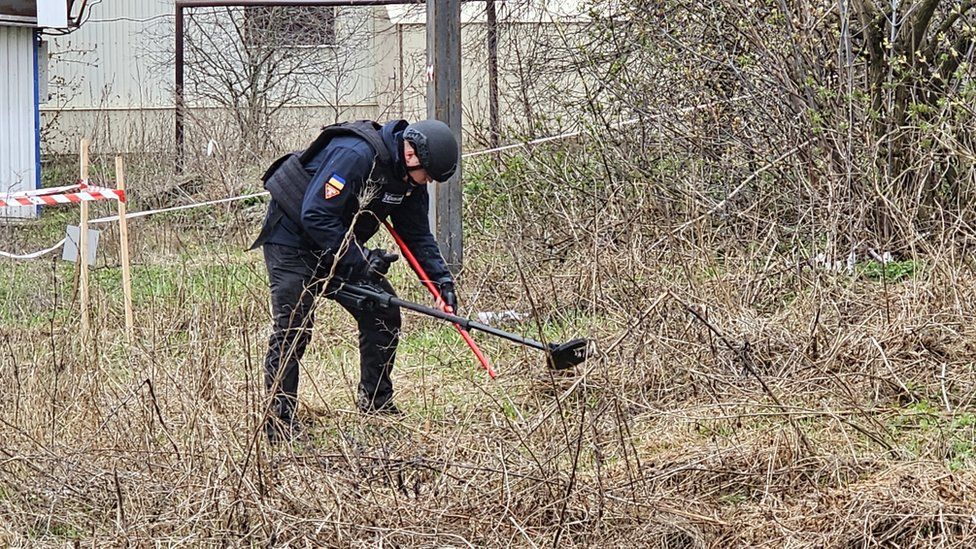 On 24 February 2022, Russia launched its full scale invasion and seized swathes of territory in the Kharkiv region, while also trying to capture Kharkiv city itself.
By May they would lose the battle for Ukraine's second biggest city. By September, they'd be blindsided by a Ukrainian counteroffensive.
The Russians deployed landmines to both defend their positions and slow the Ukrainians. After leaving in a rush, a lethal footprint was left behind.
In the small town of Balakliya, on a patch of land next to an apartment block, Oleksandr Remenets' team have already found six anti-personnel mines. They'd earlier uncovered around 200 nearby.
"My family calls me every morning to tell me to watch where I tread," he says. "One of our guys lost his foot last year."
The day after we spoke, another member of his team was wounded by a mine.
Since September, 121 civilians have been injured in the Kharkiv region alone, according to the State Emergency Service. 29 were killed.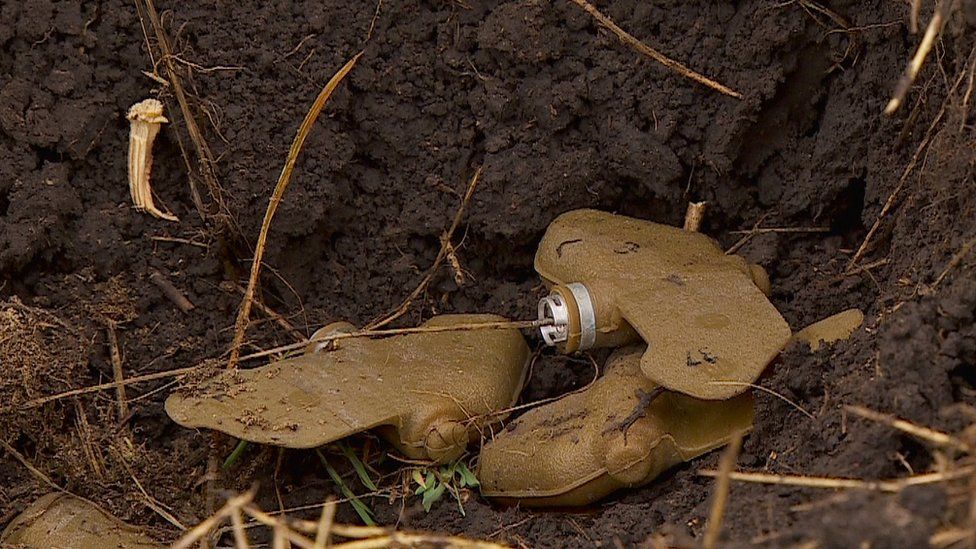 More than 55,000 explosives have been found in the area.
Deminers like Oleksandr are called "heroes" by the regional authorities, yet there's a deep frustration with their efforts being dwarfed by the scale of the problem.
Their desired catch are so-called butterfly mines, the most common in the area. They're only three to four inches wide, propeller shaped, and are scattered from a rocket.
They're banned by international law because of the indiscriminate way they can injure and kill civilians.
That hasn't stopped them from being used in this war.
When Serhiy helped a friend load his car with a small crane, he didn't pay much attention to a nearby apricot tree.
When he stepped towards it, he found himself falling backwards from an explosion.
"I thought maybe a tire had blown up," he recalls from his hospital bed in nearby Izyum.
"Then I looked at my foot and saw I was missing toes, the sole was shattered, there was bleeding."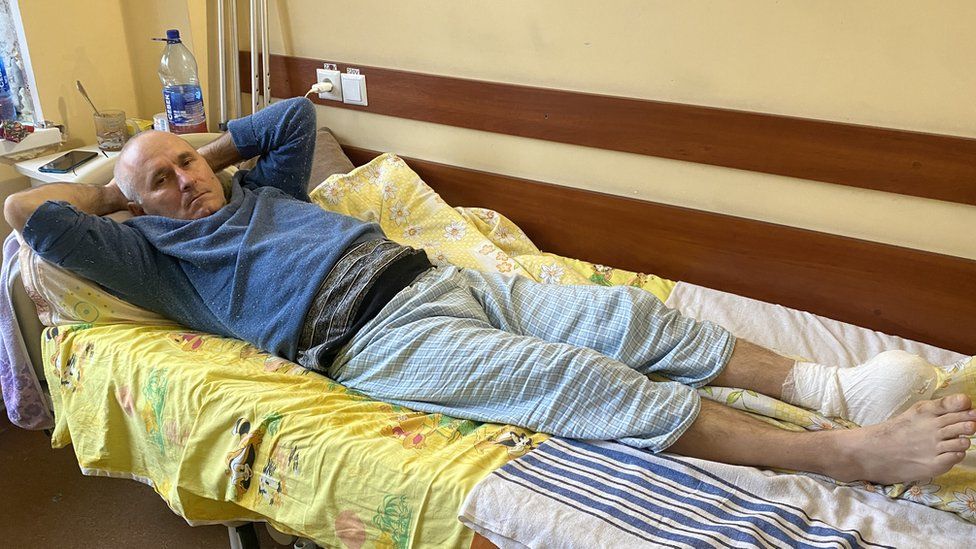 Serhiy tells us his home was also destroyed from the fighting.
"I used to be healthy, walk with both of my feet, do things, drive my car.
"In an instant, I had no house and no foot."
Serhiy is under the care of Yuriy Kuznetsov, an experienced trauma surgeon. A big, framed man with a tired, yet purposeful expression.
He kept working throughout Russia's occupation last year, and was the only doctor left in the Izyum hospital. He says he treats landmine casualties every week.
"Unfortunately, in most cases, an encounter with unknown explosives ends tragically," he explains.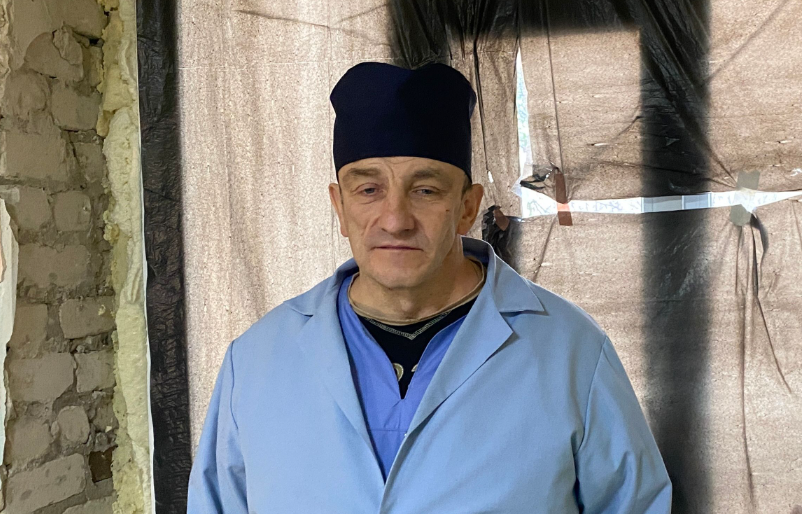 "Losing a limb or getting other kinds of injuries isn't the worst outcome. For instance, last week, we had two patients who discovered a mine. One is here, the other one died."
Entire wings of Yuriy's hospital are destroyed. There are windows missing along the corridor and the buildings are surrounded by mine signs.
"Before the war, just like everyone, I cared much about material things in life," says Yuriy.
"Now we understand how transient it all is. Peace and health are what matters."
Last week Ukraine's economy ministry said 724 people have been blown up by mines since the start of Russia's full-scale invasion in February last year, with 226 of them being killed.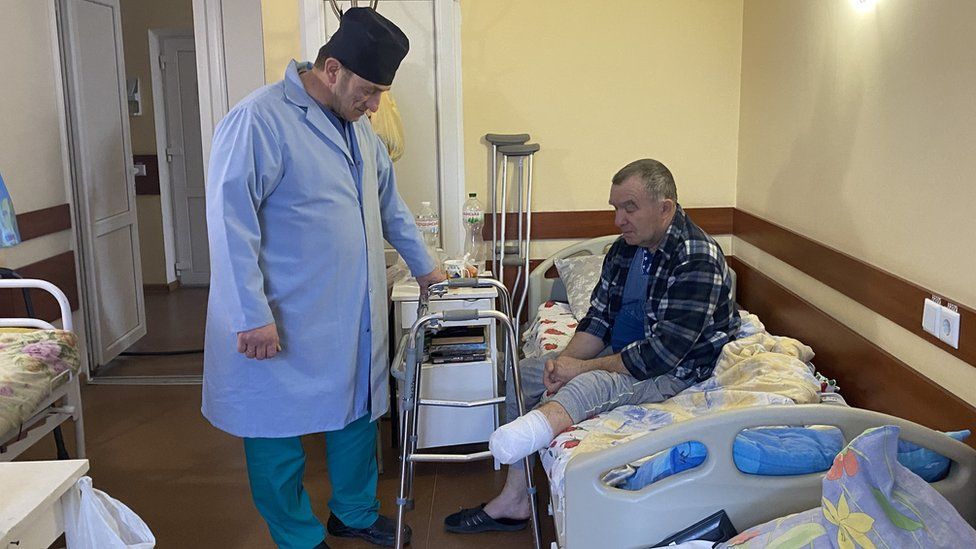 Izyum and its surrounding area is one of the most heavily mined places, yet the picture in the city is murky.
Human Rights Watch has accused Ukraine of using illegal antipersonnel mines here. Kyiv responded by saying it followed international law while defending itself.
The organisation has previously accused Russia of using similar devices across Ukraine during its full-scale invasion.
According to the World Bank – which provides low interest loans to countries who need cash – de-mining Ukraine is going to cost $37.4bn (£30bn).
Kyiv is trying to convince as many countries as possible to help so, in its words, "it doesn't take decades".
Given how it's spent the last 70 years clearing mines from World War Two, it's an approach which will require optimism.
Source : BBC